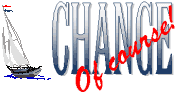 Welcome to the world of yacht racing, where you and your crew must attempt to build and modify a vessel that will be able to compete in the prestigious International Cup. Your crew's goal: Make as much money as possible over the course of the race season. Each heat will take place on one of three courses. Your boat will perform differently on each course. Choose your races carefully. Stay on course, and you'll probably do well. But stay alert. At the very last minute, someone might insist on a change of course…
Overview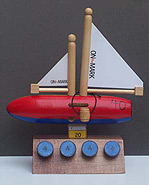 Change of Course (an On the Mark product) is a fun, fast paced interactive learning experience that focuses on performing in a changing and uncertain environment. In order to do well, teams must move quickly, build strategic partnerships, act decisively and be ready to change in midstream. Most importantly, crews must stay focused on and remain accountable for their own results. Collaboration may be essential, but in the end does not guarantee success. Competitiveness is critical, but at what expense to you and others?
Change of Course places participants in an environment that demands quick thinking, foresight and a readiness to change course. The old rules of building a plan and sticking to it may not work. In order to remain productive, new relationships may need to be forged, plans altered and strategies changed. Teams may suddenly find themselves needing to build partnerships with crews that they were competing with only moments before!
How teams collaborate will have a dramatic effect on overall scores. Too great a focus on the competitive side may create an environment where it is difficult for anyone to do well, or the teams that score well may do so at the expense of others, creating Win/Lose outcomes. Too strong a focus on collaboration often leads to compromise, which may generate scores that seem fairer, but do not maximize opportunity or achieve what's possible. Participants can mistake a strong focus on collaboration for Win/Win, while creating outcomes that reflect more of a commitment to Not Lose/Not Lose or even worse, Lose/Lose. When this happens, no one is truly maximizing opportunity or together achieving what is possible.
Change of Course allows participants to experience the challenges created by differing approaches and beliefs. As small groups form, "cultures" clash. Participants experience and must navigate through the realities of the work environment they have created. The simulation provides a fun and practical way for participants to explore how to build evolving work environments that enhance effectiveness.
Simulation Objectives
Change of Course can be used to:
Examine the behaviors and actions necessary to optimize resources, build effective relationships and maximize performance within an environment of organizational change
Provide insight regarding how to best navigate amidst the tensions of competitiveness and collaboration (cross-functional teamwork)
Stress the need for individual accountability
Understand the difference between a commitment to activity and a commitment to productivity.
Prepare participants for a mindset that accepts change
Explore the difference between managing the threat of change and managing change itself
Explore the behaviors necessary to recognize and harness opportunities created by change
Explore how to manage productively in a competitive environment
Understand the need for individuals to learn and change in order to make change work for them
Create clarity regarding the need to focus on results and the kind of commitment it takes to sustain a focus that achieves them
Target Audience
Groups who are focusing on creating optimal results in an environment of change and uncertainty.
Program Specifics
Program length:
4-6 hours
Group size:
Minimum of 18 (no maximum)