Overview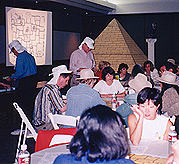 Gold of the Desert KingsŪ is a fun, pressure-packed experiential exercise that clearly demonstrates the need for effective strategic planning and goal setting, communication, decision making, leadership and teamwork. As teams race across the desert, each is equipped with a fixed budget and limited resources, and must overcome the challenges of the desert to complete their mission. Participants see clearly the potential cost of their reactions to similar pressures experienced on the job. They discover the opportunity for personal change, and are motivated to implement those changes.
The Experience: This powerful experiential exercise begins with a mission! Participants will be divided into teams. Each team will manage a camel, and limited supplies in order to safely cross the perilous desert, mine for gold, and return across the sands to the safety of home base. Once there, they will exchange gold for cash at the market rate. The team that (survives the desert and) accumulates the greatest net worth wins.
Simulation Objectives
Gold of the Desert KingsŪ provides a powerful training experience by:
Reinforcing the importance of strategic planning, even in the face of pressures that short-circuit effective planning
Examining the distinction between unfocused activity versus "Maximizing" productivity
Magnifying the importance of setting aligned goals and their link to maximizing available resources and bottom line performance
Challenging participants to think in terms of "what's possible?" instead of "what's necessary to survive?"
Target Audience
Teams who are faced with making decisions to reach a common goal and who need to build planning into their process
Program Specifics
Program length:
4 hours
Group size:
Minimum of 10 (no maximum)