Organizational Juggling

Overview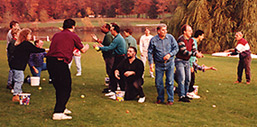 Organizational Juggling is a fun, action-packed experiential team building simulation that highlights key principles for high-performance teamwork. Teams must cooperate and communicate effectively to achieve success in the global marketplace. Three groups engage in the design and development of a high-technology transportation network. They must compete in the global market on the basis of quality, speed, and profitability. Their final results will be a direct reflection of the quality of planning, creative problem-solving, obtaining organizational buy-in and commitment, and implementation.
Simulation Objectives
Organizational Juggling can enhance organizational performance by:
Magnifying the need for cross-functional cooperation to achieve success
Building cohesiveness within and among departments
Stressing the importance of "out of the box" thinking and problem-solving
Exploring the linkage between teamwork and service
Target Audience
Teams and organizations that want to explore the value of cooperation, effective communication, and managing organizational handoffs to achieve true cross-functional teamwork.
Program Specifics
Program length:
2-4 hours
Group size:
Minimum of 15 (no maximum)